Ciao Amici.....sorry for the Italian lenguage.
In this tournamet I experimented use of Command Cards (or Targhet cards) for the attaker players.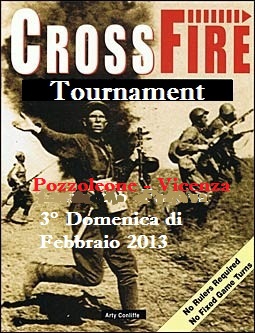 Pozzoleone(Vicenza) presso la Sala Consiliare in Comune.
Inizio partite ore 10:00.
Periodo scelto '44-'45.
Regole standard .
65 pt + bonus attaccante/difensore
1,5h a partita.
Tavoli preparati e sorteggiati casualmente.
I giocatori tirano un dado chi fa di piu stabilisce se attaccante o difensore utilizzando quindi gli appropriati bonus.
Il difensore sceglie lato e schiera per primo fino a metà campo.
L'attaccante estrae una carta obiettivo e entra dal lato opposto , può decidere l'ordine di entrata in campo delle proprie unità ed il momento.
10 pt premio per obiettivo conseguito alla fine della partita vanno all'attaccante, altrimenti vanno al difensore.
Si conteggiano i pt in base al valore di acquisto delle unità distrutte all'avversario.